Starbound
Starbound Bases - Mech Research Colony
The Mech Research Colony serves two functions - its primary purpose is the of housing potential crewmates for duty aboard starships. Its secondary use is fabricating upgrades for and deploying a player's Mech. The space station is well equipped to excel at both tasks.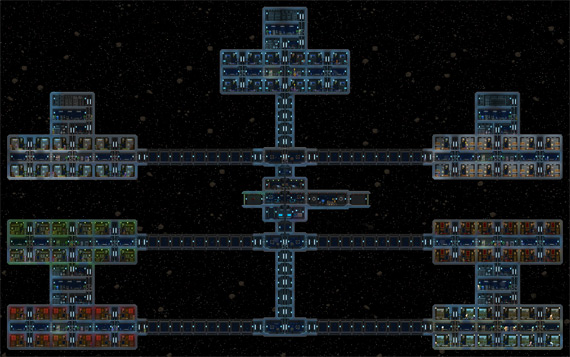 Amenities

• Gravity Control Station, Transporter & Utility Locker - The Gravity Control Panel allows manipulation of the Station's gravity settings. A player can adjust the gravity to stronger than a Class M planet, or even emulate weightlessness. Additionally, a large storage locker and transporter unit are located nearby, making the area one of the most frequented locals in the installation.

• Mech Deployment Airlock - The Mech Deployment Airlock is a magnetically sealed pressure chamber used to embark or disembark from a Mech. An emergency pressure hatch prevents decompression in the event of power failure, and a two-point energy field allows mechanical vehicles to enter while maintaining air-pressure.

• Mech Research Bay - The Mech Research Bay allows a player to customize Mech in any way they wish. Additionally, the center is able to fabricate nearly any Mech part, from weapons to mining tools to thrusters and maneuvering packages. A nearby magnetic airlock grants quick access to open space.

• Commons - The Commons is a gathering room found in the center of each Apartment Pod. With ample seating, community computer terminals and an assortment of vending machines, the area provides space to meet neighbors and be social.

• Communal Kitchen - Each Apartment Pod features a fully equipped kitchen and dining area. A Coffee Maker, Water Cooler, Microwave and Executive Model Refrigerator are just some of the amenities this room offers.

• Bathrooms & Office Space - What goes in must come out. These state-of-the-art waste management stations are capable of dealing with the excretions of every known species. The area also contains a communal work-space, complete with a holo-net enabled workstation and standard office supplies.

• Human Apartment Pod - The Human Apartment Pod hosts twelve survivors of Earth's destruction in its sleek, comfortable suites. Each room is appointed with an entertainment screen, dresser and a comfortable memory foam bed.

• Hylotl Apartment Pod - Serene and stately, the Hylotl Apartment Pod is lined with rich hardwoods and delicate paper paneling. A conservative dresser, comfortable floor bed and meditative artwork complete the furnishings.

• Apex Apartment Pod - The Apex Apartment Pod is clean and regimented. Tiles cover the walls, while florescent light fixtures keep the rooms well lit. Inspirational art hangs next to cupboards, and a firm bed insures a good night's rest.

• Glitch Apartment Pod - The Glitch Apartment Pod is lined with tinted granite slabs and rough oak. Rich tapestries hang from the walls, while a stately wardrobe stands watch over the straw bed. A wall clock and flickering lanterns complete the room.

• Nova Kid Apartment Pod - The Nova Kid Apartment Pod is everything a Space Cowboy might want. Saloon wallpaper, a genuine leather chair, western artwork and a set of real Texas Longhorns bring the old west into the 30th century.

• Avian Apartment Pod - Glorifying the religion of Kluex, the Avian Apartment Pod is lined with carved sandstone blocks and intricate carvings. Wall masks, sandalwood furniture and crystalline light fixtures meld comfortable living and spiritual faith.

• Floran Apartment Pod - Always on the prowl, the Floran Apartment Pod caters to the race's love of hunting. Furs, trophy bones and a sharp spear keep the furnishings practical and stabby. Bio-lights cast a comforting glow over the wicker lined room