Zombies & Shit
First Aid Kits
A properly maintained First Aid kit is essential for anyone that's not room temperature. They range in size from small packets that fit into a pocket, to field trauma kits carried in a large tackle-box. This post focuses on affordably creating and maintaining a first-aid kits for different situations. From gun-shot wounds to bloody-noses, and everything in between, a good medical kit is indispensable.
Overview:
Rotating emergency supplies with expiration dates can become both painful to track, and expensive for the a prepper or survivalist's various first-aid kits. As with all things one might have to lug around, size and space is at a premium - and as a result, compact containers, single use packets, and micro-sized or concentrated doses of medical products become a necessity. The problem surfaces when it comes to maintaining these supplies.
For starters, the most expensive way to buy any product is in the smallest portion. Compare the very compact single use Acetaminophen packets you can purchase - 3 individual packets of 2 pills in a small box for $1.23 at Walmart. That's a mere 6 Acetaminophen Caplets!!! Granted, size of the packets is perfect for a minimalist BOB or EDC bag, but a buyer is getting soaked for the form factor.
A minor improvement are the small lip-stick sized "tubes" which can be had for $0.97 - which hold 10 Acetaminophen pills. These are nicely sized for Car kits and True BOBs, (Bug Out Bags), but still, the costs starts to add up - and quickly when maintaining multiple kits.
Contrast and consider - for $9.97 you can buy a large container with 500 doses of Acetaminophen at Walmart. The problem is, the "large container" would by itself take up almost half of a reasonably sized first aid kit, and weighs in just shy of a pound.
The Math:
- $0.20 Per Dose
- $0.09 Per Dose
- $0.02 Per Dose
Needless to say, a person is getting taken to the cleaners when buying the conveniently sized packets. More to follow below...
Containers
To switch gears somewhat, cost is far from the least of one's difficulties. Syncing up the expiration dates is often problematic, and painful to track. Especially when focusing on conveniently sized packaging, (to minimize load). While many of these medical products are still safe after their "use-by" dates, effectiveness starts to degrade over time. Different products that came off different lots, purchased in different places means a person will have a nasty time tracking "best by" dates, and will be continually tearing kits down and replacing things - which is a hassle amplified by the number of first aid kits one maintains.
So, how does one meet these issues? Weight, volume, cost, and maintenance?

Simple: One simply needs to package them himself/herself.
This allows perfect control over the product size to best fit the kit, focuses on buying the cheapest products, in the largest quantities, and exercises more control over expiration dates. Additionally, the containers can be sanitized and reused each time the product is cycled, making the investment last. To finish the thought - there are some products which just can't be found in reasonable sizes for most kits - such as Betadine or Povidone-iodine which are not easily found in tinctures. The only way to get them in a useful size it to package them manually.
Single Sized Doses - EDC Bags, Tin Kits, Pocket Kits
- Plastic Bags, Clearline PE Write-On Loctop Bags
- 2" x 3", 100 Bags, $5.00
*http://www.sks-bottle.com/340c/fin165l.html
Kit Sized Bottles - BoB's, Vehicle First Aid Kits, Purses
- Plastic Bottles, HDPE Pharmaceutical Grade with White Ribbed Induction Lined Caps
- 75 cc, 48 Bottles, $15.36
*http://www.sks-bottle.com/340c/fin37d.html
Family Sized Bottles - Home First Aid Kit, INCH Bags, Camp Kit
- Plastic Bottles, HDPE Pharmaceutical Grade with White Ribbed Induction Lined Caps
- 250 cc, 12 Bottles, $7.92
*http://www.sks-bottle.com/340c/fin37d.html
Iodine, Rubbing Alcohol, Hydrogen Peroxide, Betadine, Povidone-iodine
- Plastic Vials, Clear PET Sample Vial with White Lined Screw Caps
- 20 ml , 12 Vials, $6.60
*http://www.sks-bottle.com/340c/fin59a.html
*(Buying from one place often minimizes shipping costs).
Labeling:
Once a sufficient number of containers are gathered, one can start making product labels. While these can get as creative or plain-as desired, a good plan is to keep it simple - Product name, plus the "technical name of it's contents," and the size of the dose if applicable.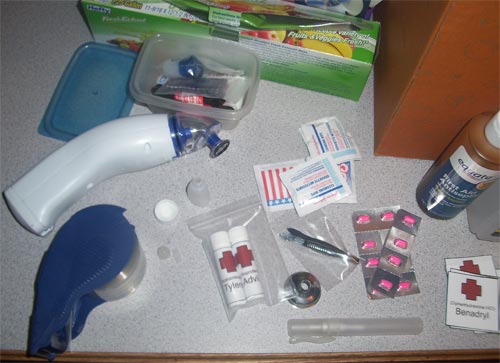 Lable Examples:
Topical Antiseptic
(Isopropyl Rubbing Alcohol)
Tylenol Pain/Feaver
(Acetaminophen - 500mg)
Any variety of labeling software, image editing program, or even Sharpie scribbled on the bottle will work - just as long as the relevant info is clearly visible. White bottles of mysterious pills won't help much.
For attaching the product information, get some good quality clear packing tape. Make sure the labels are about a 1/4 to 1/2 of an inch more narrow than the adhesive. This simplifies sticking them to the container, and the label is now surrounded on all sides by tape - making it water-resistant. The thick packing tape will wear well, yet remain legible. Be sure to carefully rub out any air bubbles, and try to keep the tape smooth and even as it's applied.
• Click HERE for pre-made .PDF lables for common medications.
• Click HERE for editable .PSD lables for common medications.

Filling Containers:
When filling the containers with product, be sure to be clean - wiped down the counter-top with a disinfectant, and wash all of the tools and bottles with a disinfectant as well. A small steel funnel is very helpful for filling vials, and be careful to clean it well between uses. The entire operation should be done while wearing a pair of latex gloves, and one should avoid touching the outside of the bottles the product came in. Use tweezers to pull doses out of the containers to avoid spreading germs to the medication through direct handling.
Much of this may seem redundant, but cleaner is always better. Especially when note is taken of how filthy the stores these products came from are. Did that bottle of Tylenol end up packed with a raw leaking pork-chop in a grocery bag?
Expiration List:
Having a central location to check for expired products is a massive time saver. One can quickly gaze over the list, and in seconds determine what needs to be rotated out. It's easiest to write the expiration dates in pencil, and erasing. Protecting the list from moisture in a small zip-lock baggie is a good idea, because, as they say, shit happens.
Examples:
Here are some examples, sealed in the small craft bags for an extra layer of wear and water-resistance. Operate under the assumption that these kits might end up dunked in a river, rained on, smashed in the glove compartment, rolled down a hill, or possibly sat on. So no single layer is sufficient when it comes to anything that can ooze or spill.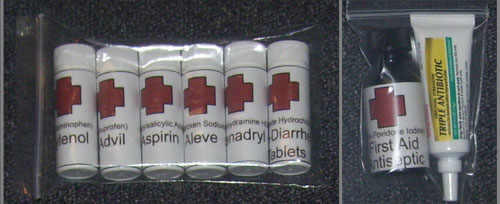 EDC First Aid Kit:
An "Every Day Carry" bag is a constant companion, and should never more than a few feet away. It's a minimalist BOB designed to get one home, which may take a few days on foot. Because one has to cram not only other emergency supplies in the bag, but also "every-day" articles, space and weight are at their most premium.
A good plan is to weight objects carried in this kit by what is needed the most in day to day activity. Example: Headaches, back-pain, allergies, small cuts and scrapes, etc. The bag is something taken everywhere, so it stands to reason it be filled with supplies useful for the common medical issues encountered daily - in addition to some items that could be used to help with a more serious injury.
The "First Aid Kit" itself is a slender vinyl zip-pocket for a small sized day-planner, and a double ply zip-lock bag for the bandages. These tend to wear pretty well, and hold up better to immersion, constant opening/closing, and punctures than a standard thin-walled single zipper baggies. They have a very thin profile, and can easily be slid into various pockets and pouches in between other more bulky items.
Table of Contents:
Bandages:
• 2x Elbow/Knee BBandages
• 4x Small Round Bandages
• 2x Butterfly Bandages
• 2x Knuckle Bandages
• 2x Small Sized Bandages
• 4x Butterfly Clotures
• 2x Standard Bandages
• 2x Fabric Bandages
• 6x 3x5 inch Gauze Pads
• 3x Latex Finger Sheaths
Medication:
• 10x Ibuprofen Tablets
• 10x Acetaminophen Tablets
• 8x Diphenhydramine Tablets
• 2x Lopermide Hydrochloride Tablets

Other Consumables:
• Face-Mask
• Paper Water Cup
• Wet Wipes
Medical Tools:
• Small Tweezers
• Razor Blade
• Nail File
• Leatherman Micra
• Steel Pill Fob
• Disp. Thermometer

Antiseptics:
• Povidone-iodine
• Bacitracin Ointment
Kit Contents: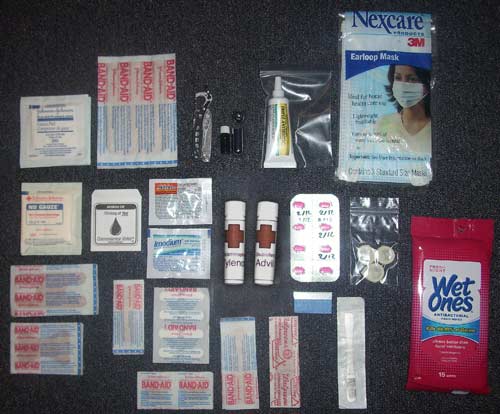 First Aid Kit Mostly Packed: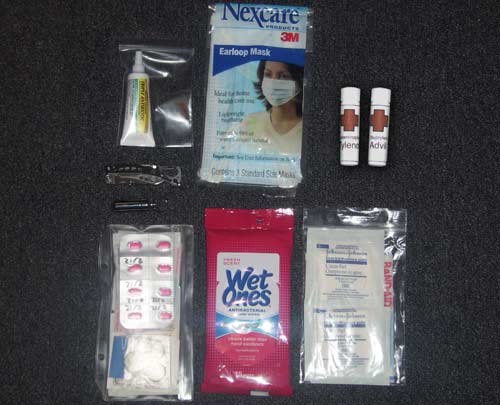 First Aid Kit in Bottom Outer Pocket of EDC bag:
Vehicle First Aid Kit:
Any vehicle first aid kit tends to see the most constant use. Especially so when dealing with children, what with their tendency to leap and bound off things, (or INTO them). Translation: It's not a matter of "if" but "when" and "how badly" the car First Aid kit will be needed.
The kit should be well stocked on things like Bacitracin, gauze, tape, and every Band-Aid flavor of the rainbow. The elbow and knee-sized patches are worth their weight in gold. Of course, some fruity-flavored Chap-Stick is obligatory, along with a myriad of other more standard first aid items. Consideration should be given to a few different sizes of tweezers for the variety of different slivers that people tend to harvest.
For a car, a soft bag tends to work well, since it won't ding up uplostry and it can be "squished" it into the glove compartment, a diaper-bag, the jockey-box, under the seat, or in a saddle-bag. With the understanding that the thing will be abused, a good buy is a Nylon bag from a medical supply store - trending towards the middle of the price range should be sufficient for most uses. One trick is to stuff a rain poncho inside the kit, to give it some internal padding, creating an inch or so of "give" when the thing inevitably started getting stepped on, sat on, kicked around, and stampeded over by children.
Table of Contents:
Bandages:
• 4x Elbow/Knee Bandages
• 24x Finger Bandages
• 4x Small Round Bandages
• 4x Butterfly Bandages
• 4x Knuckle Bandages
• 12x Standard Bandages
• 4x 3x5 inch Gauze Pads
• 2x Surgical Dressings
• 2x Finger Dressings
• 2x Latex Finger Sheaths

Antiseptics:
• Povidone-iodine
• Bacitracin Ointment
• Rubbing Alcohol Sprayer
Medication:
• Quickclot Dressing
• 1x 8x8 Burn Dressing
• 18x Ibuprofen Tablets
• 12x Acetaminophen Tablets
• 12x Diphenhydramine Tablets

Other Consumables:
• Vaseline Jelly
• 2x Fruity Lip-Balm
• Water-proof Medical Tape
• Latex Gloves
• Face-Mask
Dental:
• Crown & Filling Repair

Medical Tools:
• Large Tweezers
• Small Tweezers
• Razor Blade
• 6x Safety Pins
• Nail Clippers
• Small Scissors
• Notebook & Pencil
• Rain poncho
Kit Contents: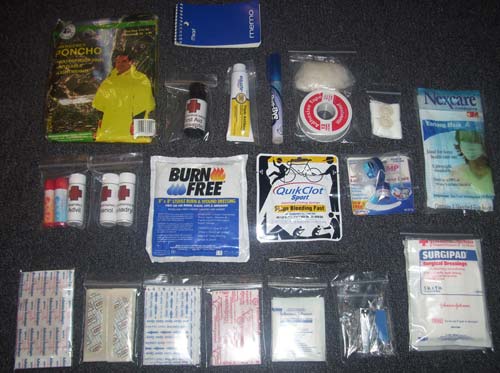 First Aid Kit Mostly Packed: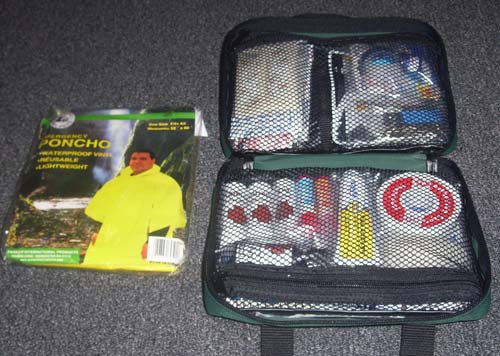 First Aid Kit Packed and Zipped: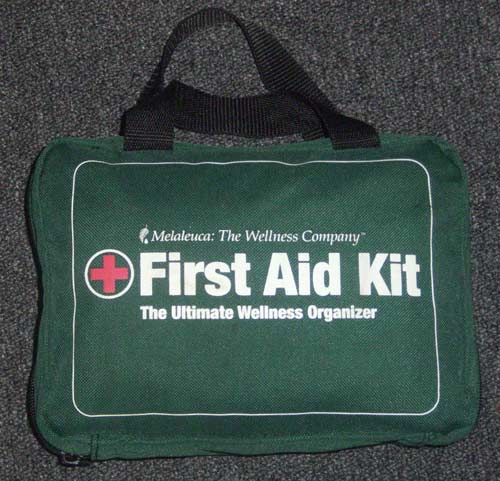 BOB First Aid Kit:
A good BOB first aid kit needs to walk the middle ground between robust and light - after all, pounds is pain. It's also built to handle a wide-range of standard medical problems, such as: Burns, cuts, pain, blisters, allergies, diarrhea, light dental issues, and other small to medium-range maladies.
The bag pictured below is a Victorinox caddy, which is rugged, and well compartmentalized with scores of slots and mesh zippered pockets that are exceptional for organizing various bandages.
When dealing with a soft bag, it's important that individual components be sealed in zip-lock packets, to protect them from crushing blows, and to keep the mess contained if they rupture.
Table of Contents:
Bandages:
• 4x Elbow/Knee Bandage
• 4x Butterfly Bandage
• 4x Knuckle Bandage
• 6x Small Sized Bandage
• 4x Butterfly Clotures
• 8x Standard Bandage
• 4x Fabric Bandage
• 4x 3x5 inch Gauze Pads
• 4x 6x6 inch Gauze Pads
• 2x Surgical Bandage
• 4 Ft. Elastic Bandage
• 6 Ft. Cotton Gauze Wrap

Other:
• Cell Phone
• AA Battery Recharger
• Cell Adapter Plug
Medication:
• Burn Free Dressing
• Quickclot Dressing
• 16x Ibuprofen Tablets
• 12x Acetaminophen Tablets
• 12x Diphenhydramine Tablets
• 16x Naproxen Sodium Tablets
• 16x Acetylsalicylic Acid Tablets
• 12x Lopermide Hydrochloride Tablets

Other Consumables:
• Water-proof Medical Tape
• Latex Gloves
• Vaseline Jelly
• Lip-Balm
• Mole-Skin
• AA Battery
Medical Tools:
• Small Tweezers
• Medium Tweezers
• Film Thermometer
• 6x Safety Pins
• Tick Remover
• Tooth Pick
• Scissors
• Nail File
• Finger-nail Clippers
• Swiss Army Knife

Antiseptics:
• Povidone-iodine
• Bacitracin Ointment

Dental:
• Crown & Filling Repair
Kit Contents: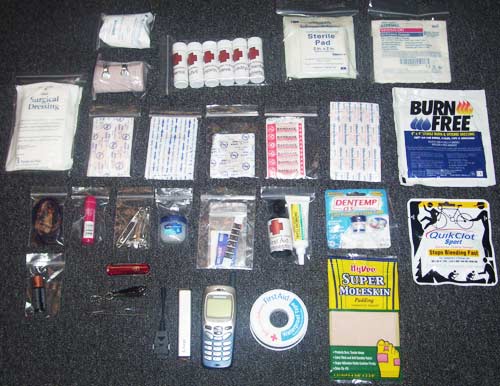 First Aid Kit Mostly Packed: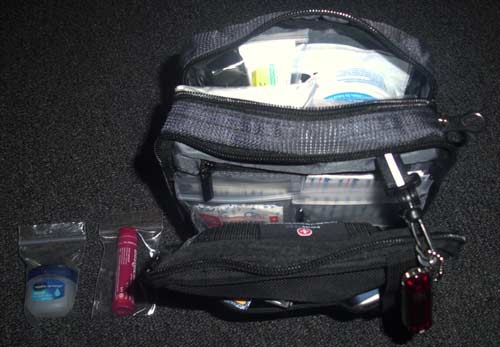 First Aid Kit Fully Packed: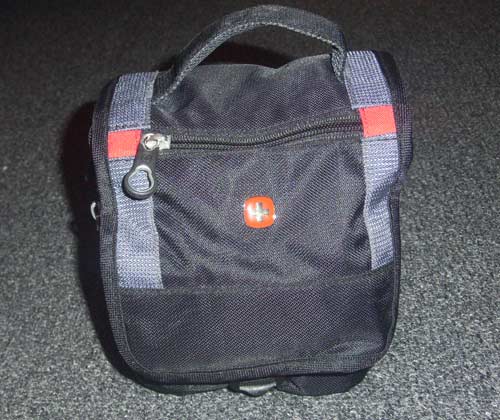 INCH Bag First Aid Kit:
The most elaborate first kits we have are reserved for the INCH bags. Since these bags are designed for a "worst case" event, they are geared towards sustainability and more serious types of injuries. Specialty bandages and sutures for gun-shot wounds, deep punctures, and a greater variety of medication is stocked in this kit compared to others.
The First Aid Kit shown below is in a Nylon Bag with sewn plastic liners, and zippered dividers. It's quite water resistant and terribly rugged. One needs to account for in-climate weather, immersion, and rough handling. Will the first aid kit handle being stepped on, dunked in water, and dropped from a high place?
Most of the medications are stowed in the front pouch for quick access, and the Band-Aids and other small bandages are stashed in the lid zipper-pouch, to keep them ordered and accessible. The expiration lists and product medical information are stored in a zipper container along the front inside wall of the bag. Everything else is neatly packed into individual zip-lock baggies, and stacked in the main compartment.
Table of Contents:
Bandagess:
• 6x Elbow/Knee Bandages
• 4x Small Round Bandages
• 4x Butterfly Bandages
• 4x Knuckle Bandages
• 6x Small Sized Bandages
• 16x Butterfly Clotures
• 12x Standard Bandages
• 8x Fabric Bandages
• 4x 3x5 inch Gauze Pads
• 2x 6x6 inch Gauze Pads
• 5x Latex Finger Sheaths
• 2x Finger Bandagess
• 4 Ft. Elastic Bandages
• 4x Tubes Super Glue
• 6 Ft. Cotton Gauze Wrap
• 1x Surgical Bandages
• 1x Deep Puncture Bandages
• 1x Compression Bandages
Medication:
• 16x Ibuprofen Tablets
• 12x Acetaminophen Tablets
• 12x Diphenhydramine Tablets
• 16x Naproxen Sodium Tablets
• 4x Burn Free Ointment Pads
• 4x Vagisil Itch Relief Wipes
• Quickclot Dressing
• 16x Acetylsalicylic Acid Tablets
• 12x Lopermide Hydrochloride Tablets

Other Consumables:
• N-95 Face-Mask
• Water-proof Medical Tape
• Latex Gloves
• Face-Mask
• Tongue Depressor
• Q-Tips
• Vaseline Jelly
• Lip-Balm
• Mole-Skin
• 2x Surgical Suture Kits
• Strait Pin
• Ball Point Pen
Medical Tools:
• Small Tweezers
• Medium Tweezers
• Swiss Army Card
• Snake Bite Kit
• Film Thermometer
• Thermometer
• 6x Safety Pins
• Tick Remover
• Tooth Pick
• Scissors
• Nail File
• Finger-nail Clippers
• Small Knife

Antiseptics:
• Povidone-iodine
• Bacitracin Ointment
• Isopropyl Alcohol

Dental:
• Crown & Filling Repair
Kit Contents: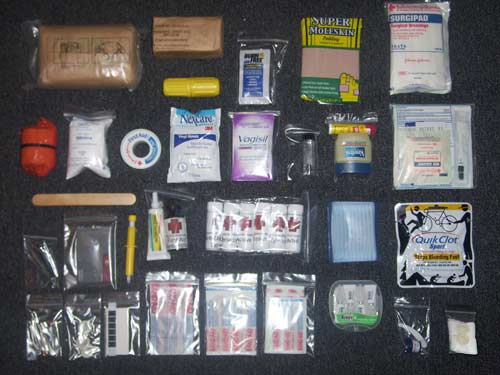 First Aid Kit Mostly Packed: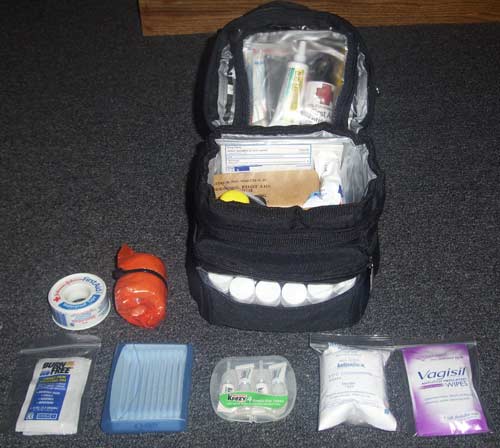 First Aid Kit Fully Packed: