Zombies & Shit
Universal Power Bag
Most families these days are awash in electronic gadgetry. GPS, Cells, MP3 players, Smart Phones, Gaming Devices, Netbooks, Lap-tops, Radios, and a zillion +1 things that run off batteries. Some are merely entertainment, some are potentially life-saving tools. Some are both. Therefore, it's prudent to have a way to power these items beyond plugging them into a car power socket or wall outlet. Something sustainable, yet portable.
One remedy to the problem is create a UPB, (Universal Power Bag), containing a solar panel, and all of the necessary peripherals and cords to keep electronics functioning. It's a decent little solar panel for the cost, and is reasonably rugged. It does what it says, and works after you step on it. There are issues however, and we'd be remiss if we failed to mention them.
Big Pro - the Nomad Panels are very durable, well made, and work well for it's primary Role - recharging batteries or Nomad battery packs - like the Sherpa. It can recharge it's AAA and AA battery packs at 7 watts, and does so quickly. It comes with a car socket, and it will charge anything plugged into that at 4 watts, and it's USB adapter outputs 5 watts. It's capable of drip charging a Netbook, (taking about 11 hours), but slowly.
Big Con - The panel WILL NOT keep up with a smart phone's rate of discharge if the phone is left on while charging. To get the best results out of a Nomad product, use the panel to charge one of their battery packs, then hook devices up to the pack. If your intention is to directly charge anything from the panel, WE CANNOT RECOMMEND THIS PRODUCT TO YOU. Fair warning. YMMV, and it's definitely got limitations.
Little Con - Nomad panels are more on the expensive end per watt than many other brands. The workmanship and quality of the Nomad is definitely higher than many of the budget portable panels - but a user will pay for that.
When building a UPG, choose accessories and cords that not only keep the LED's on, but expand device capabilities. Compact mice, external DVD R/W, and folding keyboards can turn Netbooks, Tablets, and Ultrabooks into serviceable desk computers. If there is room, consider spare a spare hard-disk, and some other basic maintenance supplies.
There are many small pouches and bags that makes excellent carriers for this gear - computer and tablet accessory bags of reasonable quality make for good choices, since most are compartmentalized with the dimensions of cables and electronics accessories in mind.
Table of Contents:
Electronics:
• Goal0 7 Watt Solar Panel
• Goal0 Guide 10
• Goal0 AAA Guide 10 Adapter
• Targus USB R/W DVD Player
• Universal PC Power Adapter
• Socket Adapter
• USB Adapter
• 12-in-1 Adapter Set
• 5 Foot Cat5 Cable
• Headphones
• USB Micro Mouse
• Toshiba 60GB HD
• Windows XP Install Disk
• Micro SD Adapter
• Micro SD Card
Consumables:
• 4 Goal0 AA Rechargeable Batteries
• 4 Goal0 AAA Rechargeable Batteries

Storage:
• Targus Netbook Bag
• Velcro One-Wrap Cables
Full Bag Contents: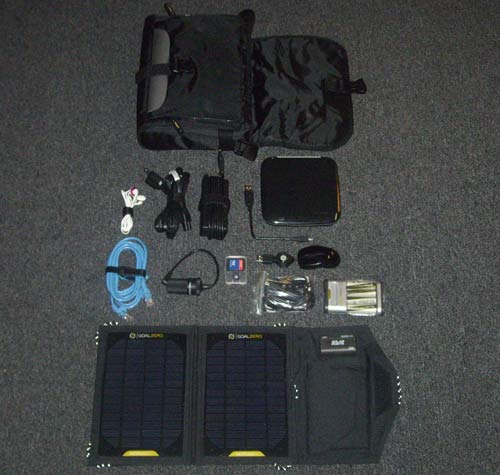 Collapsing Solar Panel and Charger: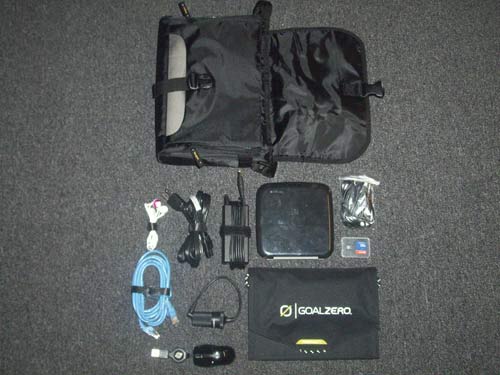 Loading Bag - Internal View: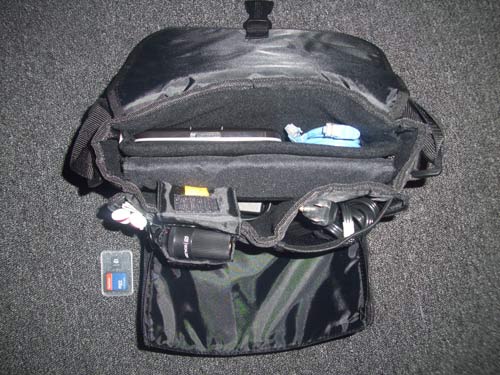 Filled Bag: