Zombies & Shit
Bug Out Bag
Many survivalists and preppers have several "tiers" of emergency equipment. Each is catered to specific situations and scale upwards depending on severity of events. Some have an EDC, (Every Day Carry), bag, which is acceptable for 3-4 days of survival, getting home and most daily rituals. Others have a BoB, (Bug Out Bag), which would keep them comfortable for well north of a week. Then there are the INCH bags, (I'm Never Coming Home), which are typically reserved for everything going to hell and one is forced to become a refugee. (Not an appetizing prospect. Especially in the face of winter.)
The BOB featured here is an extra large messenger style pack, with a plastic liner sewn into the main ruck, giving it decent of water resistance. It has back-pack straps that zip out of a rear pocket, a shoulder strap, and a handle, giving one three ways to carry it. When selecting your BOB buy rugged, and don't be afraid to shell out north of $120.00 for a good quality one. The bag pictured is a high end diaper-bag.
This Bug Out Bag has a respectable first aid kit, which you can review HERE.
To keep things organized, accessible, and firmly packed, the various related components are sealed in Reynolds and Zip-Lock Vacuum bags. This helps make the most of ruck space, and adds a second water barrier. The Zip-Lock bags are reliable, but the Reynolds bags are superior options, as the seals on the Zip-lock bags tend to slightly air out over time.
Table of Contents:
Tools:
• Aluminum Mess Kit
• Camp Silverware
• Leatherman Fuse
• Ka-bar Short Serrated
• Magnifying Glass
• Gun Cleaning Rod
• Brass Rod Adapter
• .223/.22/.270 Copper Brush
• .38/.357/.9mm Copper Brush
• .223/.22/.270 Patch Holder
• .38/.357/.9mm Patch Holder
• 25 Large Cleaning Patches
• 25 Small Cleaning Patches
• Break-Free CLP
• Mosquito Net
• 50 Feet 550 Cord
• Nylon Ruck Bag
• Intl. Pre-Paid Phone Card
• Scissors
• 10x Needles
• 2x Spools Thread
• Thimble
• Glasses Repair Kit
• Spare Glasses
• Spare Sun-glasses
• Glasses Cleaning Rag
• Spare Shoelaces
• Survival Guide
• Edible Plant Guide

Defense:
• 3x 15 Round Star Magazines
• Star Model 19m
• 100x .9mm 115gr FMJ
Consumables:
• 4x Lithium Batteries
• 6x Maxi-Pads
• 4x Tubes Super Glue
• Memo Pad
• Pencil
• Adhesive Velcro Patches
• 6x Zip Ties

Shelter/Heat:
• 3x Wax & Dryer Lint
• 2x Boxes Waterproof Matches
• 50x Strike Anywhere Matches
• 2x Fat-Wood Packs
• 10x Emergency Fire Starters
• 2x Hot Hands
• 2x Hot Hands Foot Warmers
• Hot Hands Body Warmer
• Rain Poncho
• Bandanna
• Wool Knit Gloves
• 4x Emergency Blankets

Food/Water:
• 2tsp Salt
• 2tsp Sugar
• Lifesavers
• 3x Chicken Broth Packets
• 3x Beef Broth Packets
• 4x Jerky Slabs
• Mainstay 3600 Calorie Bar
• 4x Top Ramen
• Fishing Kit
• Katadyn Hiker Pro
• Stainless Steel Water Bottle
Light:
• 2x LED Headlapms
• 2x 12 Hour Glowsticks

Navigation &
Communication:
• Suunto MC-2 Global
• 2x Whistles
• 2x Small Compasses
• Small Signal Mirror

First Aid:
• 4x Large Band-Aids
• 4x Small Band-Aids
• 4x Butterfly Clotures
• 2x Gauze Patches
• 2x Tylenol Packets
• Tweezers
• Nail Clippers
• Nail Pick
• Nail File
• Mole-Skin

Storage:
• Water Proof Match Holder
• 2x 50 Round Cartridge cases
• 1x Tin Box
• Nylon Water Bottle Sheath
• Blackhawk Hip Holster
• Blackhawk Magazine Pouch
• 4x Zip-Lock Freezer Bags
• 3x Reynolds Vacuum Bags
• Plastic Snap Bags
• Nylon Zipper Bags
• 2x Glad Plastic Tubs
Full Bag Contents: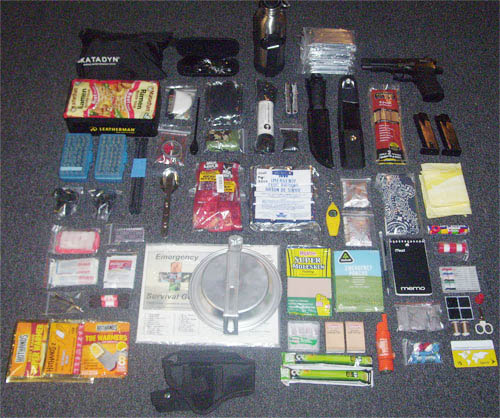 Sealed in Vacuum Bags: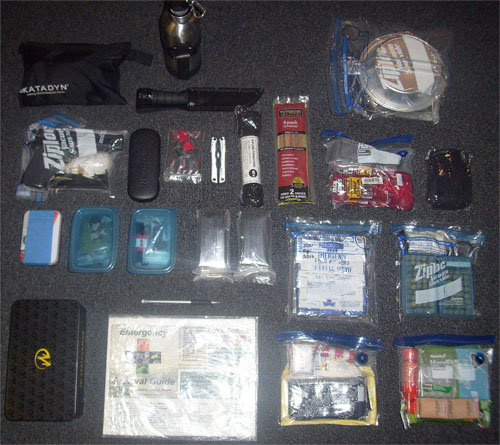 Packing The Bag: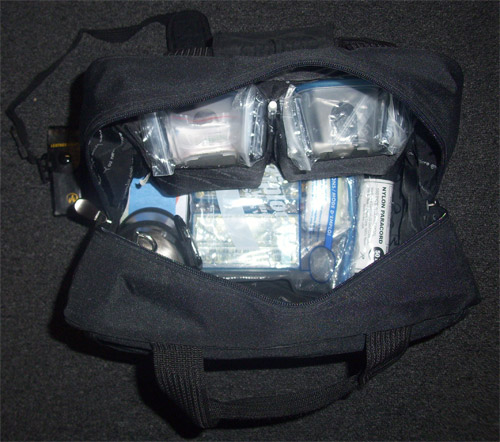 Backpack Straps Exposed: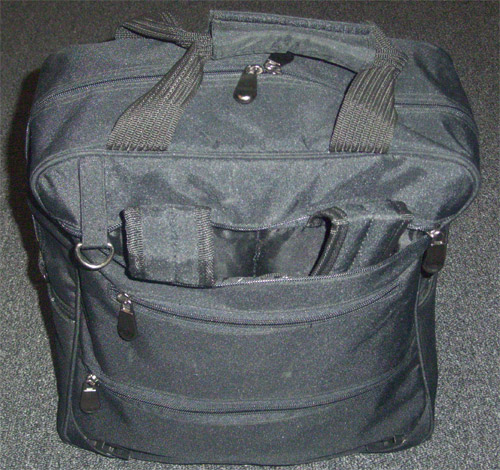 Fully Packed: