Zombies & Shit
Every Day Carry Bag
A prepper or survivalist will sometimes keep an EDC Bag, (Every Day Carry), to function as a limited BOB, (Bug Out Bag), which can be inconspicuously carried as one goes about their daily lives. Think of an EDC Bag as a minimalist survival set, containing the absolute bare minimum necessities to keep one alive and relatively comfortable for 3-4 days.
Since most people do not want the EDC bag to be immediately recognized as "survival gear," (due to public perception), good quality business bags, laptop bags, messenger bags, diaper bags, and large purses are often selected. If one buys reasonably good quality packs, they will hold up to abuse well, and many are already highly compartmentalized, which will aid the user in storing and accessing gear.
Along with survival gear, most EDC bags will also contain prepper's normal day to day things, like day planners, wallets, toiletries, computers, keys, etc. This justifies and normalizes their presence to others. When planning an EDC pack, consider what equipment you need for your terrain, and what you normally use over the course of your day. The bag should be able to contain all of these things without looking all Mall Ninja Central.
When choosing a water bottle for your kit, Stainless Steel works great - it can be placed over a fire to boil water or cook food, is rugged, and easily cleaned. Avoid painted water bottles however, as the pain chips over time, and does not handle fire well.
Click HERE to review the first-aid kit in detail:
Table of Contents:
Tools:
• Card Silverware Kit
• Comb
• 2x Ball Point Pens
• Mechanical Pencil
• 3x Brass Safety Pins
• 3x Needles
• 6x Strait Pins
• Leatherman Style
• Glasses Repair Kit
• Commando Saw/Snare
• Sewing Kit
• Day-planner
• Note Paper
• Contact Info
• 6 Inch Metal Ruler

Consumables:
• Wet Wipes
• DEET Bug Spray
• 2x Lithium Ion Batteries
• Face Masks
• 4 Feet Duct Tape
• Cash
• Change

Shelter/Heat:
• Rain Poncho
• Hot Hands
• Foil Emergency Blanket
• Umbrella
• 50x Water-proof Matches
• Flint Match & Steel Striker
• 8x Emergency Fire Tinders
• 2x Match Strike Strips
Electronics:
• HP Netbook
• CD/DVD Rom
• USB Mouse
• Small Network Cable
• PC Screen Cleaning Wipe
• 4 Gig Flash Cards
• 4 Gig USB Drive
• PC Roo Case
• Power Cable

Navigation &
Communication:
• Compass
• Small Mirror
• Whistle
• Pre-paid Int. Phone Card
• Signal Mirror

Defense:
• Ruger LCR .38
• 5 Rounds Power Ball .38 +P
• 6 Rounds Golden Saber .38 +P
• 6 Rounds Power Ball .38 +P

Food/Water:
• 2 Tablespoons Salt
• 2 Tablespoons Sugar
• 4x Life Savers Candy
• Fishing Kit
• Chicken Noodle Dinner
• Frontier 20 Gallon Water Filter
• 6x Katadyn Purification Tablets
• Stainless Steel Water Bottle
• Extra Fishing Line
• 2x Beef Broth Packets
First Aid:
• 2x Sterile Razor Blades
• Tweezers
• 4x Extra Strength Tylenol
• 2x Imodium
• 2x Motrin
• 8x Benadryl
• Folding Paper Envelope
• 3x Nylon Band-aids
• Bacitracin Ointment
• 4x Butterfly Closure Bandages
• 2x Nylon Joint Band-aids
• 2x Nylon Finger Band-aids
• 2x Extra Large Band-aids
• 2x Large Band-aids
• 2x Medium Band-aids
• 2x Small Band-aids
• 6x Gauze Packets
• 3x Sterile Finger Covers
• Thermometer

Light
• Energizer Trail-finder Headlamp

Storage:
• 2x Bianchi Speed Strips
• Case Crown Bag
• Uncle Mike's Pocket Holster
• Small Transparent Plastic Box
• Heavy Gauge Plastic Bag
• 4x Small Zip-lock Bags
• Medium Zip-lock bag
• Heavy Gauge Plastic Zipper Bag
• Waterproof Match Carrier
• Salt Shaker
• Sugar Shaker
Full Bag Contents: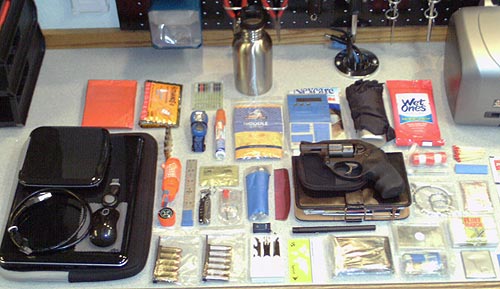 First Aid: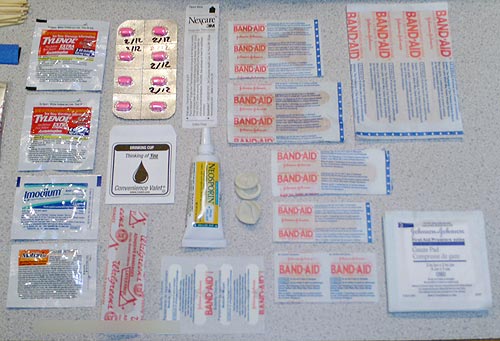 Sub-Containers: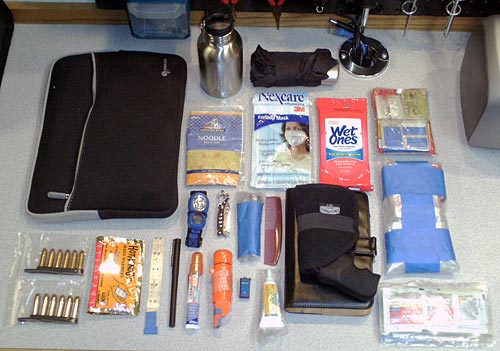 Items Being Stowed:
Main Ruck: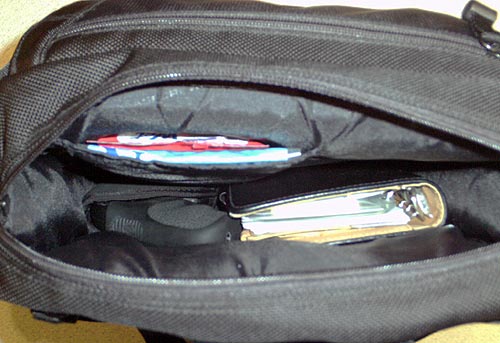 Bag Closed Up: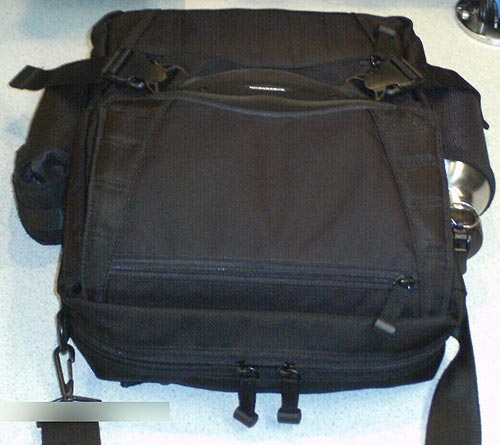 Straps out - Old photo: