Zombies & Shit
INCH Bag: I'm Never Coming Home Bag
The INCH bags are the survivalist or preppers pack of last resort. Unlike the BOB's or EDC bags, the "I'm Never Coming Home" packs are for when situations dictate that one leave the homestead or BOL and become effectively a refugee. This is never a good situation, but every plan should have a redundancy. People store tools and gear in these bags to set up a camp at one of their caches, or in an entirely new location for a protracted period - and (hopefully) they equipment buy enough time to find harbor. The worst thing that could ever happen is someone needing to put their INCH bag into service. But, at least it's a shot.
For a bag, we chose an ALICE pack, with some "extra work" from our good friends at Tactical Tailor. Reinforced seams, water-proof liners, added ruck flap pouch, three side pouches, a MOLLE Kidney pad, and MOLLE Shoulder Straps. It's comfortable hefting the ALICE system, and the medium ALICE pack has enough room to haul most of what someone needs.
We shall cover first-aid kit in another post, and one should make their best mobile first-aid package a part of this bag. In this case, it's stored in a Water-resistant, plastic lined Nylon bag, which stacks at the top of the main ruck for easy access. For a listing of the first aid kit, please review this thread Here.
In this particular INCH Bag, goods are stores in snap-ware food containers. They are light, water-tight, and durable. They can take 180lbs of body-weight standing on top of them, and won't pop open. In addition to keeping one's various bits of junk dry, the containers provide a startling amount of buoyancy. They keep everything stacked neatly in place, minimizing the rattle and maximizing retrieval speed.
For long-gun needs, this kit contains a Ruger Mini-14 carbine. While there are many arguments - (all perfectly valid) - for selecting harder hitting ammunition, one can carry vastly more ammo at a fraction of the weight, and replenish it easier. We will not debate the versatility of the AR platform as a superior alternative to the Mini-14, and would highly recommend anyone creating their own INCH back explore this option.
For a side arm, this bag contains a S&W 686. With this revolver, the user has the choice of .357 or .38 special to feed it, a seven cartridge cylinder, and the weapon is stone-cold reliable. Other good recommendations would be a Glock 17, Springfield XD M, Beretta M9, and a Sig Sauer 15. These weapons are rugged, reliable, and of respectable quality.
Table of Contents:
Tools:
• Nylon Lashing
• Nylon Buckles Clips
• 6x Carabiner Clips
• Mechanical Pencil
• Ball Point Pen
• Note Pad
• Sewing Kit
• 50ft 550 Paracord
• 3x Facemasks
• Sabercut Hand Saw
• Spare Glasses
• Sun Glasses
• Glasses Repair Kit
• Glasses Band
• Collapsable Cleaning Rod
• .357/.38/.9mm Copper Brush
• .357/.38/.9mm Nylon Brush
• .357/.38/.9mm Patch Holder
• .223 Remington Copper Brush
• .223 Remington Patch Holder
• Leatherman Wave
• Leatherman Bit Kit
• Leatherman Sharpening Rod
• Leatherman Bit Adapter Kit
• Leatherman Bit Extension
• Kabar
• Custom Survival Guide
• Northwest U.S. Plant Guide
• Nail Clippers
• Tooth Brush

Light:
• Hand Crank Light/Radio
• 10x Glow Sticks
• 2x LED Headlamps

Clothing:
• Pair Wool Socks
• Pair Nylon Socks
• Pair Cotton Socks
• Boonie Hat
• Bandana
• Bamboo Gloves
• Columbia Jacket
• Merino Wool Shirt
• Heavy Rain Poncho
• Mosquto Netting
• 2x Emergency Rain Ponchos
Consumables:
• Erasers
• Pencil Lead
• 2x Ink Cartridges
• 4x Shoelaces
• 6x kleenex Packs
• 12x AAA Batteries
• 6x Lithium Ion Batteries
• Gorilla Tape
• 20x Maxi Pads
• 4x Hot Hands
• 50spf Sun Block
• 75% Deet Bug Spray
• Pre-Paid Phone card
• 2x Rolls Toilet Paper
• 2x Sheet Camp Soap
• Shampoo
• Alchohol Hand Sanitizer
• Deodorant
• Dental Floss
• Tooth Paste
• Disposable Razor
• Tooth Picks
• 24x Plastic Bags
• CLP Cleaning Oil
• 10x cleaning Patches

First Aid:
• First Aid Kit

Defense:
• Ruger Mini-14
• 4x 20 Round Mini-14 Magazines
• 5 Round Mini-14 Magazine
• 80x 77gr .223 Remington BTHP
• 59x 55gr .223 Remington FMJ
• S&W 686
• 2x Speed Loaders
• 20x 158gr .357 JPH
• 20x 129gr .357 JHP
• 14x 180gr .357 HC
• 7x 129gr .38 Special

Navigation &
Communication:
• Compass
• Signal Mirror
• Whistle
• Back-up Mirror
• Backup Compass
Food/Water:
• Stainless Steel Mess Kit
• Camp Silverware
• Stainless Steel Water Bottle
• Katadyn Hiker Pro
• 2x MRE Packs W/Heaters
• 4x Top Ramen
• 2x 2000 Calorie Bars
• 30x Life Savers
• 4x Spam Packets
• 6x Fruit Punch Packets
• 4x Tea Packets
• 4x Beef Broth Packets
• 4x Chicken Broth Packets
• 3oz Pepper
• 3oz Salt
• 3oz sugar
• 20ft 12 Pound Fishing Line
• Floater
• 4x Jigs
• 4x Hooks
• 4x Sinkers

Shelter/Heat:
• 4x Emergency Blankets
• 2x Cans Sterno
• Thermal Blanket
• 4x Fat Wood Packs
• Magnesium Spark Rod
• 8x Emergency Tinder
• 100x Waterproof Matches
• Magnifying Glass
• Dryer Lint & Wax
• 6x8 Nylon Tarp

Storage:
• Nylon Bottle Sheath
• Nylon Bivy Bag
• Glasses Case
• Kydex Kabar Sheath
• Mini-14 Magazine Pouch
• Water Proof Match Case
• Small Nylon Draw Bag
• 2x water Proof Lined Bags
• Bianchi Shoulder Holster
• 5x Medium Snap-ware
• 2x Small Snap-ware
• 2x Large Snap-ware
• Tall Snap-ware
• Leatheman Bit Case
• Leatherman sheath
Full Bag Contents: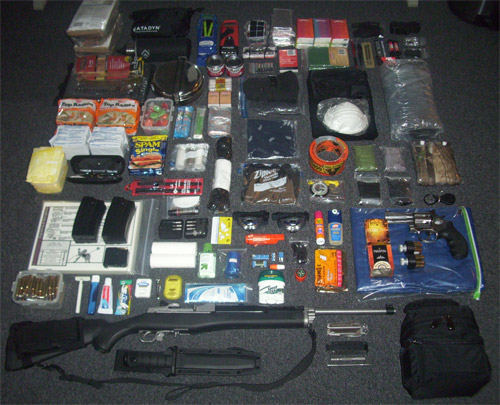 Packed Into Sub Containers: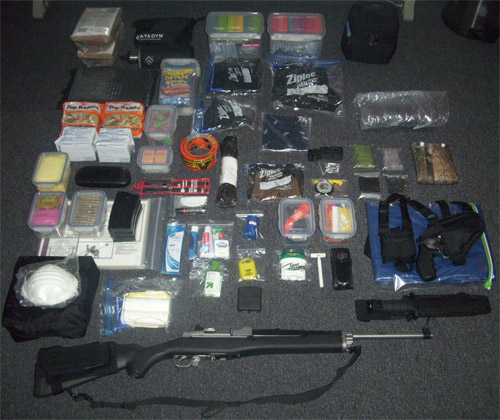 Further Compressed: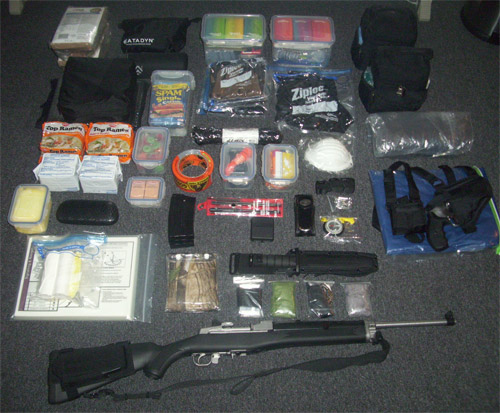 Contents Sitting in Main Ruck: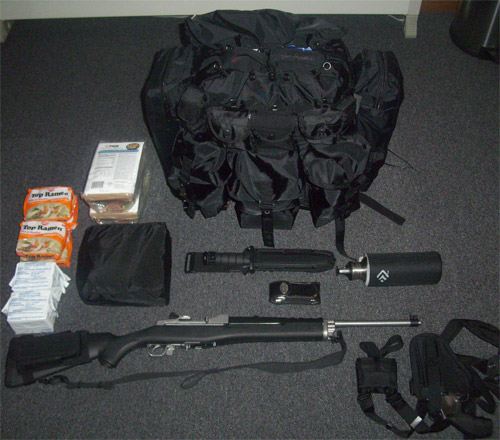 INCH Bag Fully Packed: